Bowl of Saki - Free Daily Email Subscription

What is it??
The Bowl of Saki is a daily non-sectarian inspirational message from Inayat Khan, an awe-inspiring spiritual leader from India who brought a timeless message of Love, Harmony and Beauty to the Western world in the early 1900's, a message which helps us to become more acutely aware of the precious spark of divinity within ourselves and within all of creation.

These messages are not about any new religion, they are simply reminders of the same glorious ideals which have been offered to us through the great prophets and teachers of all eras.
What will it look like??
Your daily email will look something like this: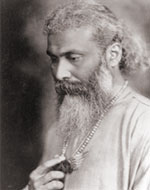 It is the soul's light which is natural intelligence.
Bowl of Saki, November 20, by Hazrat Inayat Khan
Commentary by Hazrat Inayat Khan
Coming to the cause of the lack of joy, one realizes by pondering on the subject that it is not pursuing after joy that results in disappointment, it is the wrong method adopted in the pursuit of joy which brings, instead of joy, sorrow or disappointment. ... Nothing can take away joy from the man who has right understanding. Through all conditions of life he will retain it, but the one who lacks understanding, nothing in the world or Heaven there is which can bring him a lasting joy. This shows that, in reality, joy does not come from the external life, though always it seems so. Joy has only one source and that is the heart of man, which is the globe over his soul's light.

~~~ "Sangatha III, Tasawwuf ", by Hazrat Inayat Khan (unpublished)


The soul has the tendency to look forward to what is going to be, or at what has been in the past. It is the light of our soul, the intelligence that does this. Intelligence working through physical means is no greater than intellect. But intelligence working freely and independently from physical means is wisdom. And wisdom is not cleverness, but infinitely superior to it. Wisdom works independently of the physical means, and therefore, requires intuition. The clever person works by means of his physical body, but the wise person works independently of it.

from https://wahiduddin.net/mv2/VII/VII_20.htm


The Qur'an says, 'God is the Light of the heavens and of the earth;' and if there is any spark of God that can be found in man, it is his intelligence. Naturally, therefore, when this divine light which is hidden in man is once brought to a blaze and has risen as a flame, it illuminates his path towards perfection.

from https://wahiduddin.net/mv2/VII/VII_39.htm



~~~ It is the soul's light which is natural intelligence.

Subscription Options:
After subscribing, you can use the Subscription Options page to access the options of removing Inayat Khan's photo, changing to a nature photo, and/or suspending delivery (during extended vacations of up to six months).
What does "Saki" mean? Where does the commentary come from?
Learn about it at: Origins of The Bowl of Saki
Is my email address safe??
Yes it's safe. Your email address will not be sold, given away or misused, and the only emails you will receive will be the daily Bowl of Saki. Here's our Privacy Policy.
Are there additional ways to receive the free Bowl of Saki??
Yes!

1) Bowl of Saki on-line on this web site,

2) via an RSS feed, or

3) on Facebook
How do I start my daily email subscription??
After you submit your email address, a verification email will be sent to you, and you must respond to that verification email in order to complete the subscription process.

After you respond to the verification email, the Bowl of Saki will be sent to you each day, typically between the hours of 12 AM to 5 AM US Mountain Time (0600 to 1200 GMT).