Bowl of Saki - Free Daily Email Subscription

What is it??
The Bowl of Saki is a daily non-sectarian inspirational message from Inayat Khan, an awe-inspiring spiritual leader from India who brought a timeless message of Love, Harmony and Beauty to the Western world in the early 1900's, a message which helps us to become more acutely aware of the precious spark of divinity within ourselves and within all of creation.

These messages are not about any new religion, they are simply reminders of the same glorious ideals which have been offered to us through the great prophets and teachers of all eras.
What will it look like??
Your daily email will look something like this: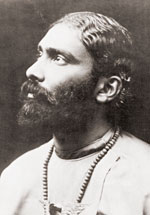 Narrowness is primitiveness; it is the breadth of heart that proves evolution.
Bowl of Saki, August 10, by Hazrat Inayat Khan
Commentary by Hazrat Inayat Khan
One person will do something and consider that there is great wisdom in his sacrifice, while another who is not evolved enough to understand it will say, 'How very foolish!' Remember therefore that not only to the wise person the man of little sense seems foolish, but even to the foolish person the wise one seems foolish. The points of view of both are different: one looks from the top of the tower, the other standing on the ground. So there is a vast difference in the range of their sight.

It is a man's outlook on life which makes him broad or narrow, and it is the grade of his evolution which gives man the illumination of sacrifice. What a man was not inclined to do last year, he may be inclined to do this year; the sacrifice one could not make yesterday, one can make today, for the rate of speed of man's evolution cannot be limited to a particular standard. A broad outlook enriches man and a high point of view ennobles the soul.

from https://wahiduddin.net/mv2/VIII/VIII_2_23.htm


Once you have linked yourself with love, a flood of inspiration is revealed to you, whatever the subject, whatever the problem in life may be. Whatever it be that your eye casts its glance upon, it will disclose itself. Then you are on the real road, and what a joy this is!

Breadth of heart is what is needed for all this. ... It is the breadth of heart that makes a man great, whereas it is narrowness of heart that makes him small. The great heart does not think about how troublesome a person is, and why he should be bothered like this. It is only the narrow of heart that thinks, 'I will cause him some trouble.' It may be justified, but still it is a narrow thought. The one with a broad heart thinks,' This is a small thing, I can put up with it; not much harm will come from it.'

The Nizam wrote this verse, 'The width of the land and the water cannot be compared with the width of man's heart. If man's heart is wide enough there is nothing greater than that.' The heart becomes wide by forgetting the self, and narrow by thinking of the self and by pitying one's self. To gain a wide and broad heart you must have something before you to look upon and to rest your intelligence upon, and that something is the God ideal. This is the prescription for killing the self, and to kill the self is the basis of every religion.

from https://wahiduddin.net/mv2/XII/XII_I_16.htm



~~~ Narrowness is primitiveness; it is the breadth of heart that proves evolution.


Subscription Options:
After subscribing, you can use the Subscription Options page to access the options of removing Inayat Khan's photo, changing to a nature photo, and/or suspending delivery (during extended vacations of up to six months).
What does "Saki" mean? Where does the commentary come from?
Learn about it at: Origins of The Bowl of Saki
Is my email address safe??
Yes it's safe. Your email address will not be sold, given away or misused, and the only emails you will receive will be the daily Bowl of Saki. Here's our Privacy Policy.
Are there additional ways to receive the free Bowl of Saki??
Yes!

1) Bowl of Saki on-line on this web site,

2) via an RSS feed, or

3) on Facebook
How do I start my daily email subscription??
After you submit your email address, a verification email will be sent to you, and you must respond to that verification email in order to complete the subscription process.

After you respond to the verification email, the Bowl of Saki will be sent to you each day, beginning with the next subscription emailing which is typically between the hours of 12 AM to 5 AM US Mountain Time (0600 to 1200 GMT) each morning.

Note: In most cases your subscription will begin the day after you subscribe.