Bowl of Saki - Free Daily Email Subscription

What is it??
The Bowl of Saki is a daily non-sectarian inspirational message from Inayat Khan, an awe-inspiring spiritual leader from India who brought a timeless message of Love, Harmony and Beauty to the Western world in the early 1900's, a message which helps us to become more acutely aware of the precious spark of divinity within ourselves and within all of creation.

These messages are not about any new religion, they are simply reminders of the same glorious ideals which have been offered to us through the great prophets and teachers of all eras.
What will it look like??
Your daily email will look something like this: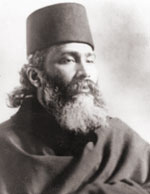 Our soul is blessed with the impression of the glory of God whenever our lips praise Him.
Bowl of Saki, March 21, by Hazrat Inayat Khan
Commentary by Hazrat Inayat Khan
There is a necessity for praise in prayer, praise of the beauty of God, for man must learn to recognize and praise the beauty of God as manifested in all His creation. In this way he impresses beauty on his soul, and he is able to manifest it in himself, and he becomes the friend of all and is without prejudice. For this reason the Sufi cultivates his heart. The emblem of the Sufi is a heart between two wings, meaning that when the heart is cultivated man can soar up into the heights of heaven.

from https://wahiduddin.net/mv2/V/V_34.htm


"Why does God need praise from me? Who am I that I should offer Him praise?" True, we can never praise Him enough; never can our praise be sufficient, but our souls are blessed with the impression of the Glory of God whenever we praise Him. The soul could praise God every moment and yet wanting to praise Him yet more, it is constantly hungering and thirsting to find the Beauty and Perfection of God. By the praise of God the soul is filled with bliss; even to utter the name of God is a blessing that can fill the soul with light, joy and happiness as nothing else can do.

from https://wahiduddin.net/mv2/archives/prayer.htm


One might ask what effect prayers can have upon the soul, which is pure and aloof from everything. The soul, when it sees the external self bowing before God, rejoices and is glad. Prayer gives nobility to whoever prays, be he rich or poor. The attitude of a prayerful person towards God is that of a lover towards his beloved, of a child towards its parents, of a servant towards his master, of a pupil towards his teacher, of a soldier towards his commander. ...

There are many virtues, but there is one principal virtue. Every moment passed outside the presence of God is sin, and every moment in His presence is virtue. The whole object of the Sufi, after learning this way of communicating is to arrive at a stage where every moment of our life passes in communion with God, and where our every action is done as if God were before us. Is that within everyone's reach? We are meant to be so. Just think of a person who is in love: when he eats or drinks, whatever he does, the image of the beloved is there. In the same way, when the love of God has come, it is natural to think of God in everything we do.

from https://wahiduddin.net/mv2/IX/IX_7.htm



~~~ Our soul is blessed with the impression of the glory of God whenever our lips praise Him.

Subscription Options:
After subscribing, you can use the Subscription Options page to access the options of removing Inayat Khan's photo, changing to a nature photo, and/or suspending delivery (during extended vacations of up to six months).
What does "Saki" mean? Where does the commentary come from?
Learn about it at: Origins of The Bowl of Saki
Is my email address safe??
Yes it's safe. Your email address will not be sold, given away or misused, and the only emails you will receive will be the daily Bowl of Saki. Here's our Privacy Policy.
Are there additional ways to receive the free Bowl of Saki??
Yes!

1) Bowl of Saki on-line on this web site,

2) via an RSS feed, or

3) on Facebook
How do I start my daily email subscription??
After you submit your email address, a verification email will be sent to you, and you must respond to that verification email in order to complete the subscription process.

After you respond to the verification email, the Bowl of Saki will be sent to you each day, typically between the hours of 12 AM to 5 AM US Mountain Time (0600 to 1200 GMT).