Bowl of Saki - Free Daily Email Subscription

What is it??
The Bowl of Saki is a daily non-sectarian inspirational message from Inayat Khan, an awe-inspiring spiritual leader from India who brought a timeless message of Love, Harmony and Beauty to the Western world in the early 1900's, a message which helps us to become more acutely aware of the precious spark of divinity within ourselves and within all of creation.

These messages are not about any new religion, they are simply reminders of the same glorious ideals which have been offered to us through the great prophets and teachers of all eras.
What will it look like??
Your daily email will look something like this: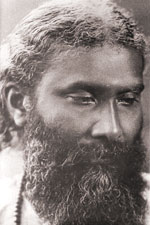 Failure comes when will surrenders to reason.
Bowl of Saki, January 22, by Hazrat Inayat Khan
Commentary by Hazrat Inayat Khan
Will is not [merely] 'a power', but it is all the power there is. How did God create the world? By will. Therefore, what we call 'will power' in us is in reality 'God power,' a power that increases by our recognizing its potentiality and proves to be the greatest phenomenon in life. If there is any secret behind the mystery of the world of phenomena that can be learned, it is will power. It is by will power that all we do, physically or mentally, is accomplished. Our hands, with all their perfect mechanisms, cannot hold a glass of water if there is no will power to support them. If will power fails, a person seemingly healthy will not be able to stand.

from https://wahiduddin.net/mv2/II/II_38.htm


It is man's lack of faith that generally causes failures. In faith is the secret of fulfillment or non-fulfillment of every thought. There is no doubt about the fulfillment of a desire if man's faith works with it. But when one's own reason and doubt come and destroy the hope, one generally meets with failure. ... there are numberless people who are thinking and reasoning all their lives, asking themselves, 'Shall I do this? How can I do that? How can I overcome these obstacles? And all the time they are thinking of the hindrances, or waiting for suitable circumstances to arise, and they never do. Their whole life may be spent in the pursuit of something which reason prevents them from attaining.

from https://wahiduddin.net/mv2/VII/VII_11.htm


An important rule of psychology is that every motive that takes its root in the mind must be watered and reared until its full development. And if one neglects this duty, one does not only harm the motive, but by this the will power becomes less, and the working of the mind becomes disorderly. Even if the motive be small and unimportant, yet a steady pursuit after its attainment trains the mind, strengthens the will, and keeps the inner mechanism in order.

For instance, when a person tries to unravel a knot, and then he thinks, 'No use giving time to it,' he loses an opportunity of strengthening the will and attaining the object desired. However small a thing may appear to be, when once handled, one must accomplish it, not for the thing itself, but for what benefit it gives.

~~~ "Githa I, Sadhana 10", by Hazrat Inayat Khan (unpublished)



~~~ Failure comes when will surrenders to reason.

Subscription Options:
After subscribing, you can use the Subscription Options page to access the options of removing Inayat Khan's photo, changing to a nature photo, and/or suspending delivery (during extended vacations of up to six months).
What does "Saki" mean? Where does the commentary come from?
Learn about it at: Origins of The Bowl of Saki
Is my email address safe??
Yes it's safe. Your email address will not be sold, given away or misused, and the only emails you will receive will be the daily Bowl of Saki. Here's our Privacy Policy.
Are there additional ways to receive the free Bowl of Saki??
Yes!

1) Bowl of Saki on-line on this web site,

2) via an RSS feed, or

3) on Facebook
How do I start my daily email subscription??
After you submit your email address, a verification email will be sent to you, and you must respond to that verification email in order to complete the subscription process.

After you respond to the verification email, the Bowl of Saki will be sent to you each day, typically between the hours of 12 AM to 5 AM US Mountain Time (0600 to 1200 GMT).