Bowl of Saki - Free Daily Email Subscription

What is it??
The Bowl of Saki is a daily non-sectarian inspirational message from Inayat Khan, an awe-inspiring spiritual leader from India who brought a timeless message of Love, Harmony and Beauty to the Western world in the early 1900's, a message which helps us to become more acutely aware of the precious spark of divinity within ourselves and within all of creation.

These messages are not about any new religion, they are simply reminders of the same glorious ideals which have been offered to us through the great prophets and teachers of all eras.
What will it look like??
Your daily email will look something like this: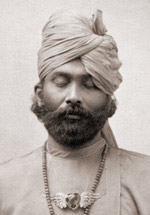 He who keeps no secrets has no depth in his heart.
Bowl of Saki, December 14, by Hazrat Inayat Khan
Commentary by Hazrat Inayat Khan
He who keeps no secret has no depth; his heart is like a vessel turned upside down.

from https://wahiduddin.net/mv2/say/gayan_boulas.htm


The secret of all attainment is centered in reserve. Spiritual or material, when a person has told his plans to others, he has let out the energy that he should have kept as a reservoir of power for the accomplishment of his object. ... The teaching, 'Be wise as a serpent,' may be interpreted, 'Be quiet as a serpent.' It is quietude that gives wisdom and power. The thought held in mind speaks to the mind of another, but the thought spoken out most often only reaches the ears of a person. Every plan has a period of development; and if man has power over his impulse, by retaining the thought silently in mind, he allows the plan to develop and to take all necessary changes that it may take for its culmination. But when the impulse expresses the thought, it so to speak 'puts out the flame,' thus hindering the development of the plan. The wise speak with their mind many times before they speak about it to anybody.

~~~ "Githa I, Sadhana 7, The Path of Attainnment", by Hazrat Inayat Khan (unpublished)


I say, "Without the control over your lips you will not be able to develop inspiration." As a poet has said, "When the shell closes its lips, then the pearl develops in it." ... the more you are able to keep your secret in your heart, the greater you become. You have more weight, your personality becomes more reliable, more dependable. As it is said in Vadan that it is best to say something without saying.

~~~ "Sangatha II, Secrecy on the Path of Truth", by Hazrat Inayat Khan (unpublished)


As soon as a person thinks, 'I am more,' the doors of knowledge are closed. He will no more be able to widen his knowledge because automatically, the doors of his heart are closed the moment he says, 'I know.'

Spiritual knowledge, the knowledge of life, is so intoxicating, so exalting, it gives such a great joy, that one begins to pour out one's knowledge before anyone who comes along as soon as this knowledge springs up. But if at that time the disciple could realize that he should conserve that kindling of the light, reserve it, keep it within himself and let it deepen, then his words would not be necessary and his presence would enlighten people. As soon as the spring rises and he pours forth what comes out of that spring in words, although on the one side his vanity will be satisfied, on the other side his energy will be exhausted. The little spring that had risen, he has poured out before others and he remains without power. This is why reserve is taught to the true disciple, the conserving of inspiration and power. The one who speaks is not always wise; it is the one who listens who is wise.

from https://wahiduddin.net/mv2/X/X_2_8.htm


The more one knows the secret of the world the more one feels inclined to keep it secret. And the more one keeps secret what one knows the more life unfolds its secrets to one. ... it must be remembered that the power of the body is nothing in comparison with the power of the mind. And the power of the one who keeps a secret is greater than the power of the giant who lifts a mountain. All that one holds is preserved, all that one lets go is dispersed.

from https://wahiduddin.net/mv2/XIII/XIII_20.htm



~~~ He who keeps no secrets has no depth in his heart.

Subscription Options:
After subscribing, you can use the Subscription Options page to access the options of removing Inayat Khan's photo, changing to a nature photo, and/or suspending delivery (during extended vacations of up to six months).
What does "Saki" mean? Where does the commentary come from?
Learn about it at: Origins of The Bowl of Saki
Is my email address safe??
Yes it's safe. Your email address will not be sold, given away or misused, and the only emails you will receive will be the daily Bowl of Saki. Here's our Privacy Policy.
Are there additional ways to receive the free Bowl of Saki??
Yes!

1) Bowl of Saki on-line on this web site,

2) via an RSS feed, or

3) on Facebook
How do I start my daily email subscription??
After you submit your email address, a verification email will be sent to you, and you must respond to that verification email in order to complete the subscription process.

After you respond to the verification email, the Bowl of Saki will be sent to you each day, beginning with the next subscription emailing which is typically between the hours of 12 AM to 5 AM US Mountain Time (0600 to 1200 GMT) each morning.

Note: In most cases your subscription will begin the day after you subscribe.