Bowl of Saki - Free Daily Email Subscription

What is it??
The Bowl of Saki is a daily non-sectarian inspirational message from Inayat Khan, an awe-inspiring spiritual leader from India who brought a timeless message of Love, Harmony and Beauty to the Western world in the early 1900's, a message which helps us to become more acutely aware of the precious spark of divinity within ourselves and within all of creation.

These messages are not about any new religion, they are simply reminders of the same glorious ideals which have been offered to us through the great prophets and teachers of all eras.
What will it look like??
Your daily email will look something like this: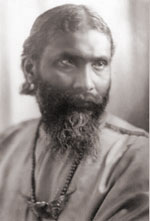 It is when one has lost the idea of separateness and feels himself at one with all creation that his eyes are opened and he sees the cause of all things.
Bowl of Saki, September 27, by Hazrat Inayat Khan
Commentary by Hazrat Inayat Khan
Every being and object which is distinctly separate may be called an entity, but what one calls an individual is a conception of our imagination; and the true meaning of that conception will be realized on the day when the ultimate truth throws its light upon life. On that day no one will speak about individuality; one will say 'God' and no more.

There are many beings, but at the same time there is one, the only Being. Therefore objects such as streams and mountains are also living, but they only exist separately to our outer vision. When our inner vision opens then the separation is shown as a veil; then there is one vision alone, and that is the immanence of God.

from https://wahiduddin.net/mv2/V/V_12.htm


As soon as the soul begins to say 'I' he is exiled from heaven, for all blessings belong to the state which the soul experienced before he claimed to be 'I', a separate entity, separate from others. It is because of this that man, whatever his position, whatever his situation in life, is not fully happy. The trouble of one may perhaps be greater than that of another, but both he who resides in heavenly palaces and the inhabitant of a grass hut have their troubles; both have their pain. But man finds the reason for all afflictions in the life outside him. The Sufi finds it in that one sin: that of having claimed to be 'I'. With this claim came all the trouble, it continued, and it will always continue. This sin has such a hold upon the soul that it is just like the eclipse of the sun, when its light is covered and cannot shine.

from https://wahiduddin.net/mv2/XII/XII_I_5.htm


There is an innate desire in every human being for knowledge. ... With man this desire is never satisfied. He always wants to know more. There is ever a restless craving within him for knowledge. This is because he does not look for the cause in the right way. He only sees the external causes, and not the cause underlying the cause, and below that, the primal cause. For example, a man who has become estranged from his friend only sees perhaps the superficial cause, and calls his friend unkind; or he may even admit that he himself is at fault, or he may go still deeper and say that owing to a certain planetary influence they cannot be friendly. Yet he has not probed the cause of this cause. ...

For this reason the religions taught the God-ideal, that the primal cause might be sought through the pursuit of God. It is when man has lost the idea of duality and feels himself at one with all creation, that his eyes are opened and he sees the cause of everything.

from https://wahiduddin.net/mv2/V/V_30.htm



~~~ It is when man has lost the idea of separateness and feels himself at one with all creation that his eyes are opened and he sees the cause of all things.

Subscription Options:
After subscribing, each and every Bowl of Saki email will have convenient links at the bottom to enable you to quickly and easily change your email address, cancel your subscription, or go to the subscription options page.

You can use the Subscription Options page to access the options of changing your email address, removing Inayat Khan's photo, changing to a nature photo, and/or suspending delivery (during extended vacations of up to six months).
What does "Saki" mean? Where does the commentary come from?
Learn about it at: Origins of The Bowl of Saki
Is my email address safe??
Yes it's safe. Your email address will not be sold, given away or misused, and the only emails you will receive will be the daily Bowl of Saki. Here's our Privacy Policy.
Are there additional ways to receive the free Bowl of Saki??
Yes!

1) Bowl of Saki on-line on this web site,

2) via an RSS feed
How do I start my daily email subscription??
After you submit your email address, a verification email will be sent to you, and you must respond to that verification email in order to complete the subscription process.

After you respond to the verification email, the Bowl of Saki will be sent to you each day, beginning with the next subscription emailing which is typically between the hours of 12 AM to 3 AM US Mountain Time (0600 to 0900 GMT) each morning.

Note: In most cases your subscription will begin the day after you subscribe.