Bowl of Saki - Free Daily Email Subscription

What is it??
The Bowl of Saki is a daily non-sectarian inspirational message from Inayat Khan, an awe-inspiring spiritual leader from India who brought a timeless message of Love, Harmony and Beauty to the Western world in the early 1900's, a message which helps us to become more acutely aware of the precious spark of divinity within ourselves and within all of creation.

These messages are not about any new religion, they are simply reminders of the same glorious ideals which have been offered to us through the great prophets and teachers of all eras.
What will it look like??
Your daily email will look something like this: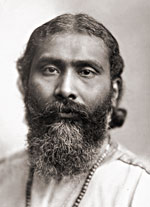 We should be careful to take away from ourselves any thorns that prick us in the personality of others.
Bowl of Saki, July 17, by Hazrat Inayat Khan
Commentary by Hazrat Inayat Khan
We frequently say, 'I dislike him,' 'I wish to avoid her,' but if we examine this carefully, we find it is the same element in all that we dislike, the ego. And when we turn to ourselves to see if we have it in us, we find it is there too. We should forget it, therefore, in other people, and first turn our attention to crushing it within ourselves. We should determine to have our house clean even if other people neglect theirs. We should be careful to take away from ourselves any thorns that prick us in the personality of others. There is a verse in the Quran, which says, 'Arise in the midst of the night, and commune with thy Lord... Bear patiently what others say.' This is not only a command to rise in the night and pray, but it also means that by rising in the night we crush the ego, for the ego demands its rest and comfort, and when denied, is crushed. The mystics fast for the same reason. The Sufis base the whole of their teaching on the crushing of the ego which they term Nafs-kushi, for therein lies all magnetism and power.

from https://wahiduddin.net/mv2/V/V_27.htm


For every soul there are four stages to pass through in order to come to the culmination of the ego, which means to reach the stage of the rose. The first stage is that a person is rough, thoughtless and inconsiderate. He is interested in what he wants and in what he likes; as such he is naturally blind to the needs and wants of others. In the second stage a man is decent and good as long as his interests are concerned. As long as he can get his wish fulfilled he is pleasant and kind and good and harmonious; but if he cannot get his wish and cannot have his way, then he becomes rough and crude and changes completely. And there is a third stage, when someone is more concerned with another person's wish and desire, and less with himself; when his whole heart is seeking for what he can do for another. In his thought the other person comes first and he comes afterwards. That is the beginning of turning into the rose. It is only a rosebud, but then in the fourth stage this rosebud blooms in the person who entirely forgets himself in doing kind deeds for others. In Sufi terms the crushing of the ego is called Nafs Kushi.

from https://wahiduddin.net/mv2/VII/VII_40.htm



~~~ We should be careful to take away from ourselves any thorns that prick us in the personality of others.

Subscription Options:
After subscribing, you can use the Subscription Options page to access the options of removing Inayat Khan's photo, changing to a nature photo, and/or suspending delivery (during extended vacations of up to six months).
What does "Saki" mean? Where does the commentary come from?
Learn about it at: Origins of The Bowl of Saki
Is my email address safe??
Yes it's safe. Your email address will not be sold, given away or misused, and the only emails you will receive will be the daily Bowl of Saki. Here's our Privacy Policy.
Are there additional ways to receive the free Bowl of Saki??
Yes!

1) Bowl of Saki on-line on this web site,

2) via an RSS feed, or

3) on Facebook
How do I start my daily email subscription??
After you submit your email address, a verification email will be sent to you, and you must respond to that verification email in order to complete the subscription process.

After you respond to the verification email, the Bowl of Saki will be sent to you each day, typically between the hours of 12 AM to 5 AM US Mountain Time (0600 to 1200 GMT).